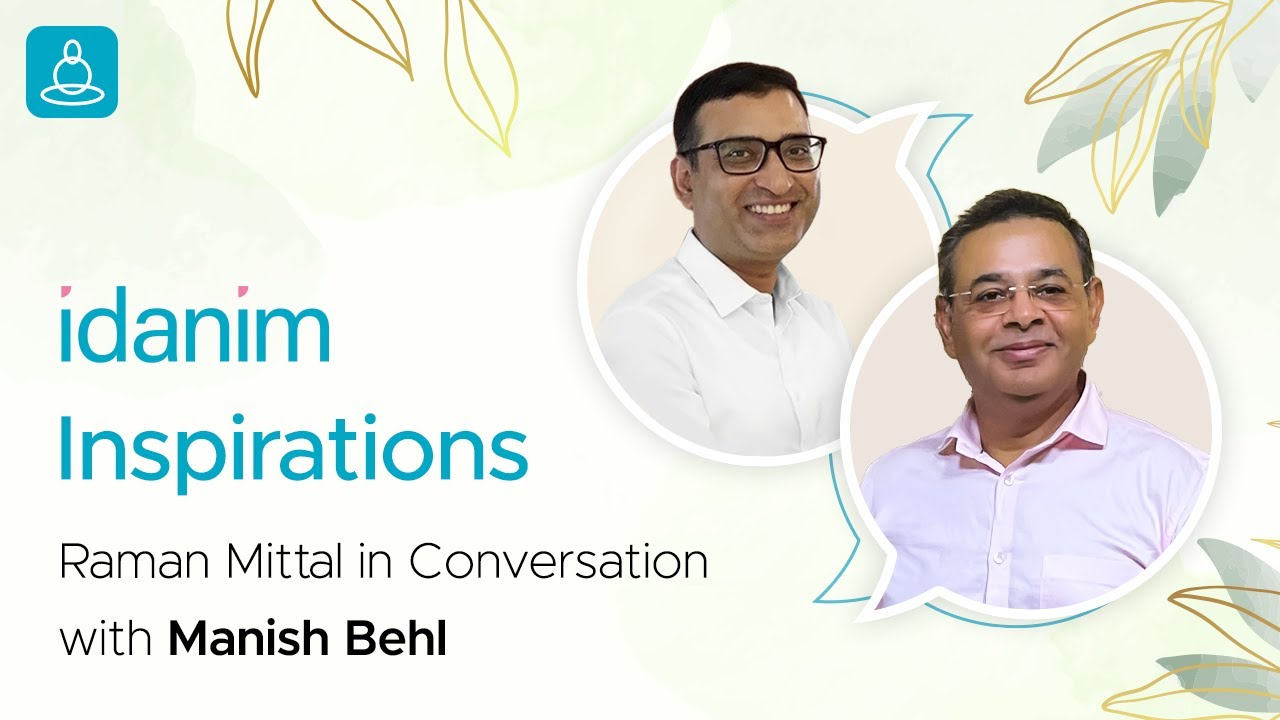 Idanim Inspirations ft. Manish Behl | What is Mindfulness | Mental Health & Emotion Regulation
Raman Mitthal in conversation with Manish Behl
An amazing and insightful conversation with Mr. Raman Mittal had with Mr. Manish Behl to discuss practical tips and tricks to integrate and addressed how emotional intelligence can aid in navigating challenging scenarios in life.
Manish Behl – Founder Mindful Science Centre and Mindfulness India Summit.
Moderator : Raman Mittal Co-founder of Idanim
In this session we discussed how mindfulness and meditation practices can assist individuals in making informed decisions and analyzing situations without biases.
Watch the full video
In this conversation by Idanim Inspirations 
Manish Behl
  spoke about his journey and how meditation enhances your overall well-being, mental health improves the quality of life, personal relationships, and leads you to a path of self-discovery and inner peace.
Manish says, "Working at senior positions in the corporate and business world, I realized how organizations and professionals lose focus from the goal and how Anxiety, Anger, Fear, Worry, Stress emotions eradicate their and organization's success and health. I comprehended that with support of simple mindfulness practices how easy is it to change these adverse situations to advantage."
Here are few points discussed during the conversation
How did Manish Behl Start his Mindful Journey?
He shared about his initial interactions with meditation and the mindful journey. At the age of 7, he embarked on this path, guided by his yoga guru, Dhirendra Brahmachari. It was through this mentorship that he was introduced to the intricate art of subtle yoga practices, unveiling the science and wisdom behind the world of yogic art and meditation.
He developed the habit of rising early in the morning. This simple yet transformative habit paved the way for a morning ritual that would later become instrumental in his exploration of various meditation practices and disciplines. Manish fondly remembered himself as a hyperactive child with boundless energy. Meditation and mindfulness practices helped him channel a positive force that would shape not only his behavior but also his mindset, education and career.
Advice to people who expect to be thoughtless while meditating
Manish puts a simple yet profound insight into a common misconception about meditation by saying,
"Thoughts and breath come from the same place. You cannot control it. The more you try to control it, the more it becomes prominent."
He explains that thoughts are like flowing streams. Just as you can't control the course of a river, thoughts naturally flow in the mind. However, what you can control is your relationship with these thoughts. This is where mindfulness comes into play. It's about creating a space between yourself and the constant flow of thoughts and emotions, observing them from a distance.
How does mindfulness impact one's decision-making?
Manish Behl is renowned for his expertise in guiding and coaching both businesses and individuals. When asked about the impact of mindfulness on decision-making, he highlighted a vital connection that often goes unnoticed. Decision-making involves an interplay of conscious and largely subconscious processes influenced by our daily actions, biases, social conditioning, genetic predispositions, and situational factors.
Manish emphasized mindfulness acts as a catalyst for transforming the decision-making process. It provides you with a precious pause, a moment to step back and gain clarity. In this moment of awareness, you can scrutinize the array of choices before you and view them through a different lens. Mindfulness brings to light the conscious decisions that shape your path, paving the way for more confident and affirmative choices.
By fostering awareness and expanding the horizons of thinking, mindfulness equips individuals with the tools to make well-informed decisions, free from the limitations of unconscious biases. It empowers them to chart a course that aligns with their true intentions and aspirations, ultimately leading to more meaningful and impactful outcomes.
What does 'non-judgmentally' mean in the context of mindfulness?
Manish add's quote 
 'Mindfulness is the awareness that arises through paying attention on purpose, in the present moment, non judgementally". – by Jon Jabat Zinn
He explained that practicing mindfulness with a non-judgmental attitude signifies a crucial aspect of this practice. He elaborated on this by highlighting the essence of accepting the present moment exactly as it unfolds, devoid of any desire to alter it to fit our preferences. This approach embodies what he termed as "non-judgmental mindfulness."
Being non-judgmental involves embracing the present moment without imposing any biases or expectations. It's about looking at the situation as it is, without the lens of trying to immediately make it better. He stressed that when we cling to expectations and view things from a singular standpoint, our thinking becomes confined, limiting our ability to explore various viewpoints. Being non-judgmental opens the door to being fully present in the moment. It fosters a sense of inner calm, attentiveness, and focus.
How does mindfulness impact people's personal lives and overall well being?
Manish explained a very straightforward perspective on the power of mindfulness. When one practices mindfulness, it doesn't just stay in one corner of your life—it spills over into every aspect.
It is like a mirror that helps you peel away the layers and reveal your true, authentic self. This self-discovery journey impacts not only your personal life but also your professional sphere. It's a holistic transformation. Mindfulness enables you to cultivate empathy, a precious quality that allows you to genuinely connect with others. It encourages you to be fully present in each moment, making your interactions with people more meaningful and profound.
Final words
Manish is a skilled meditator with years of experience, he began his journey into meditation to establish a deeper self-connection. In this interview he candidly shares his personal transformation, illustrating the profound impact of meditation on his life and how people have improved their way of living using some simple meditation techniques. He touches upon how mindfulness can act as an effective tool in corporate well-being, leading professionals to operate at the maximum potential.
 Manish Behl :
Manish Behl is a renowned Mindfulness Teacher and India's foremost expert in Mindfulness and Emotional Intelligence, providing evidence-based solutions to individuals, leaders, and organizations to enhance performance and well-being.
Manish is the founder of Mindfulness India Summit, the largest event of its kind in Asia, and Mindful Science Centre, a prestigious institute for mindfulness research and training.
With 25 years of leadership experience as CEO of multinational companies, he brings a wealth of practical knowledge to his work. Manish is a TEDx speaker, neuroscience enthusiast, and visionary thinker committed to conscious living and personal growth. He is also Leadership Coach certified by ICF – PCC
Mindfulness based Training for Workplace
---
Mindful Science Centre is mindfulness and emotional intelligence based  training and learning centre providing leadership and performance solutions for corporates and organizations. Mindful Science Centre applies practices based on self-awareness and social emotional intelligence that cultivate leadership qualities such as attention, resilience, focus, empathy, compassion, communication and clarity.
Well-designed Mindfulness training programs and one-on-one coaching sessions support individuals and organisations to develop a positive outlook, decision-making, agility, creativity, concentration, sustainability, mental and physical well-being through mindfulness and Emotional Intelligence practices. Contact Mindful Science Centre to learn more about how to become Successful leader Web: www.mindfulsciencecentre.com. Mail: hello@mindfulsciencecentre.com