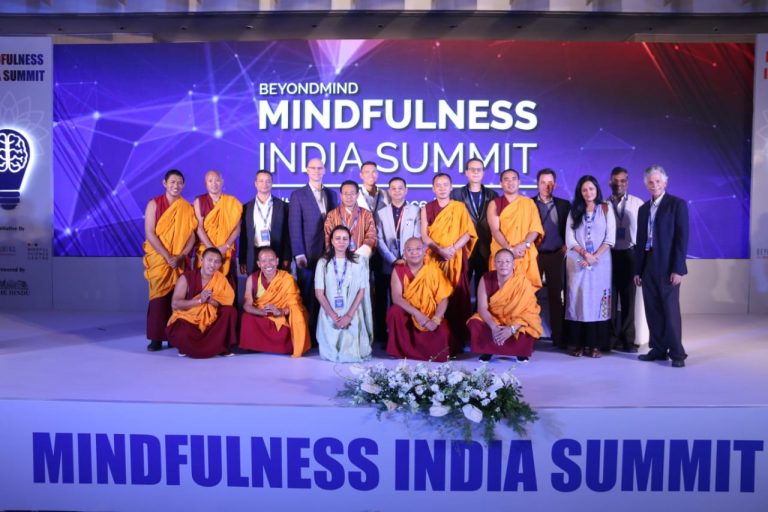 The summit saw several experts from various fields sharing valuable experiences, learnings and case studies for practical applications on bringing about Mindfulness and Emotional Intelligence
by 
Updated: Nov 2, 2019 11:46 AM
The second edition of Mindfulness India Summit which started on 30th October 2019, concluded successfully on Oct 31st, 2019, with practical applications on bringing Mindfulness and Emotional Intelligence through Neuroscience for organisations, education, healthcare and for a happier fulfilled life with well-being.
The summit boasted of experts from various fields and all around the globe who shared valuable experiences, learnings and case studies including names like Dr. Daniel Goleman – Psychologist and Award-Winning Author on one end to Hector Garcia – Author of World bestseller – IKIGAI – Japanese concept of Joy, Happiness and purpose on the other, Buddhist monks on one end, to cognitive scientists on the other, dancers on one end to musicians at the other.
This made Mindfulness India Summit the only such gathering in the world with such vast, rich and diverse experiences in spiritual, secular and contemplative Mindfulness. The speakers also included Ronald D.Siegel from Harvard Medical School , Dr Ruth Baer from University of Oxford, Neerja Birla, Dr Matthew Lippincott from Goleman EI, Clif Smith from EY Americas, Chris Tamdjidi – Founder Kalapa Academy, Chef Ranveer Brar, Norbu Wangchuk – Former Education Minister, Royal Government of Bhutan, Shalini Behl along with founder Manish Behl shared the stage through deep panel discussions and interesting keynotes and workshops.
Neerja Birla, who is a leading philanthropist spoke on bringing focus to mental illness and creating an environment for victims to talk about and not suffer alone. She spoke about creating awareness for mental problems and finding solutions to people affected by it. She emphasised on the need to have various measures and avenues to deal with problems related to mental illness. Through two days national speakers like Dr Narayanan Srinivasan, Marcus Ranney from Thrive Global along with industry leaders from Salesforce, BCG, Accenture, Microsoft, Mumbai Port Trust,
The Hindu, Deloitte and Manish Behl, the man who made Mindfulness India Summit possible in India discussed various aspects of Mindfulness in life and at work. After a very successful inaugural Summit in 2018, in its second year itself, the Summit has become Asia's largest summit on Mindfulness, Emotional Intelligence, Neuroscience and Positive Psychology; with over 30 speakers, 200+ participants, 10+ workshops, 20 + keynotes and focus sessions over 2 days, a place where every leader needed to be. It's has been the biggest platform to discuss benefits, myths, case studies, research tools and practices on Mindfulness and EI in personal and professional life.
The summit has already made a difference in the life of various corporates, entrepreneurs and VPs, CFOs and CEOs from leading international and domestic organisations. This year participants joined from varied fields including corporations, government, education, healthcare, non-profits and entrepreneurs. In this two-day summit, attendees will be encouraged and educated to harness their capacity for happiness, health, and make mindfulness a part of everyday life.
The agenda for this year's summit involved topics included:
Mindfulness for the new generation in an increasingly digital society
Science of mindfulness: transforming your mind and body
Mindful Eating
Mindfulness at Workplace
Mindfulness for Education
Mindfulness and Happiness
Health and Well Being
Evolving Landscape of Mindful Society
How emotional intelligence impact leaders?
Creativity, innovation and concentration a form of art, to engage in the ancient practice of Mindfulness etc.
Speaking about the Mindfulness India Summit, Mr Manish Behl, Founder said, "Mindfulness India Summit is a platform to advance the benefits of Mindfulness and Emotional Intelligence for the Indian sub-continent." He further said, "Problems and complexities are always there, but its mindfulness which prepares one to deal with the same. It helps in realising your inner strength and it is on a person's ability to deal with the situation that makes it easy or hard. Mindfulness cannot solve the problem, but it definitely prepares an individual to deal with the problem in a better manner."
For more updates, be socially connected with us on
WhatsApp, Instagram, LinkedIn, Twitter, Facebook & Youtube
https://www.exchange4media.com/industry-briefing-news/the-2nd-edition-of-mindfulness-india-summit-concludes-successfully-on-october-31st-100575.html