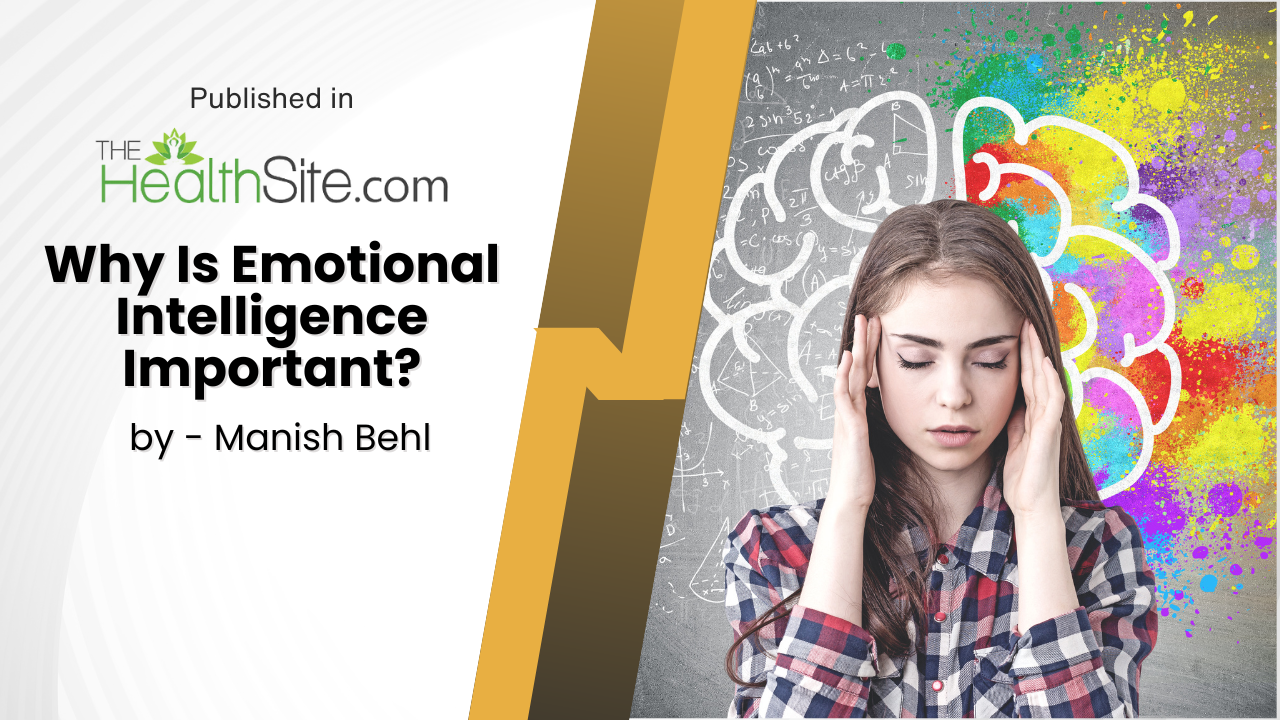 Why Is Emotional Intelligence (EQ) Important?
Article By – Manish Behl Published in The Health site
Emotional Intelligence old and new
Let me share something that I've experienced during my 30-year professional career as a senior leader, as well as a Mindfulness & Emotional Intelligence trainer and coach. I've seen many leaders and managers with high IQ, technological skills and experience, fail to perform in senior leadership positions, in managing bigger teams, or handling complex situations. On the other hand, individuals who understand others, demonstrate poise, and manage complex social situations without losing their composure tend to be more creative and perform and lead better.
So it's not just about having knowledge or being cognitively smart, these people have higher emotional intelligence which allows them to not only to understand and manage their emotional state. They have the skill which helps them navigate through difficult situations with ease while maintaining strong relationships. They handle stress better than those with high IQ alone. In other words, emotional intelligence plays a key role in their day to lives and decision making.
What makes up Emotional Intelligence?
EI is a powerful skill that helps us in recognizing and managing emotional data in two ways, Inside World (Intrapersonal) and Outside World (Intrapersonal)
There are four key characteristics that define these two stages :
1. Self-Awareness: Paying attention to our own self, observing our thoughts, feelings, physical sensations habits, reactions and behavior.
2. Self-Management: Managing and regulating feelings and emotions effectively so that we can respond to situations and communicate those feelings and emotions to other in a productive way.
3. Social Awareness: Recognizing and understanding the emotions of others.
4. Relationship Management: How can we build strong and meaningful connections with others.
Are there any benefits of Emotional Intelligence?
Developing emotional intelligence (EI) offers numerous benefits. One of the key advantages is the ability to make better decisions under pressure and recognize when personal biases or ego are hindering productivity. Leaders with high EI can manage their emotions, remain calm during stressful times, and have exceptional communication and listening skills.
Few of the benefits are as below :
– Higher Awareness
– Better mental and physical health
– Reduced anxiety, stress and burnout
– Empathize with others.
– Better relationships and lesser conflicts
– Effectively manage challenges.
– Problem-solving,
– Decision-making,
– Leadership and teamwork,
– Customer service
– Motivation
– Compassion and Kindness
– Flexibility and Understanding
Finally
While intelligence quotient (IQ) is undoubtedly important, it is not the only factor that determines success. Emotional intelligence (EI) is equally significant in shaping how we handle stress, interact with others, and build relationships.
Higher EI is a better predictor of success than high IQ alone.
So, if you're ready to invest in your personal and professional success, start working on your emotional intelligence today.
It's an opportunity to unlock your full potential and become the best version of yourself.
Excerpts from article published in The Health site
About the Writer: Manish Behl :
Manish Behl is India's foremost expert in Mindfulness and Emotional Intelligence, providing evidence-based solutions to individuals, leaders, and organizations to enhance performance and well-being.
An Internationally acclaimed Motivational Speaker and a Leadership and Growth Coach, he utilizes Mindfulness, Emotional Intelligence, and Neuroscience to facilitate positive change and drive performance.
Manish is the founder of Mindfulness India Summit, the largest event of its kind in Asia, and Mindful Science Centre, a prestigious institute for mindfulness research and training.
With 25 years of leadership experience as CEO of multinational companies, he brings a wealth of practical knowledge to his work. Manish is a TEDx speaker, neuroscience enthusiast, and visionary thinker committed to conscious living and personal growth. He is also Leadership Coach certified by ICF – PCC
Mindfulness based Training for Workplace
---
Mindful Science Centre is mindfulness and emotional intelligence based training and learning centre providing leadership and performance solutions for corporates and organizations. Mindful Science Centre applies practices based on self-awareness and social emotional intelligence that cultivate leadership qualities such as attention, resilience, focus, empathy, compassion, communication and clarity.
Well-designed Mindfulness training programs and one-on-one coaching sessions support individuals and organisations to develop a positive outlook, decision-making, agility, creativity, concentration, sustainability, mental and physical well-being through mindfulness and Emotional Intelligence practices. Contact Mindful Science Centre to learn more about how to become Successful leader Web: www.mindfulsciencecentre.com. Mail: hello@mindfulsciencecentre.com