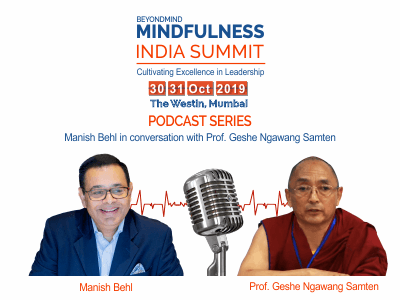 Benefits Of Mindfulness In Daily Life
Manish Behl in Conversation With
Ven. Geshe Ngawang Samten -Vice Chancellor
Central University of Tibetan Studies Sarnath,

Mindful Science Centre is mindfulness and emotional intelligence based training and learning centre providing leadership and performance solutions for corporates and organizations. Mindful Science Centre applies practices based on self-awareness and social emotional intelligence that cultivate leadership qualities such as attention, resilience, focus, empathy, compassion, communication and clarity.
Well-designed Mindfulness training programs and one-on-one coaching sessions support individuals and organizations to develop a positive outlook, decision-making, agility, creativity, concentration, sustainability, mental and physical well-being through mindfulness and Emotional Intelligence practices.
Contact Mindful Science Centre to learn more about how to become Successful leader
Web: www.mindfulsciencecentre.com. Mail: hello@mindfulsciencecentre.com