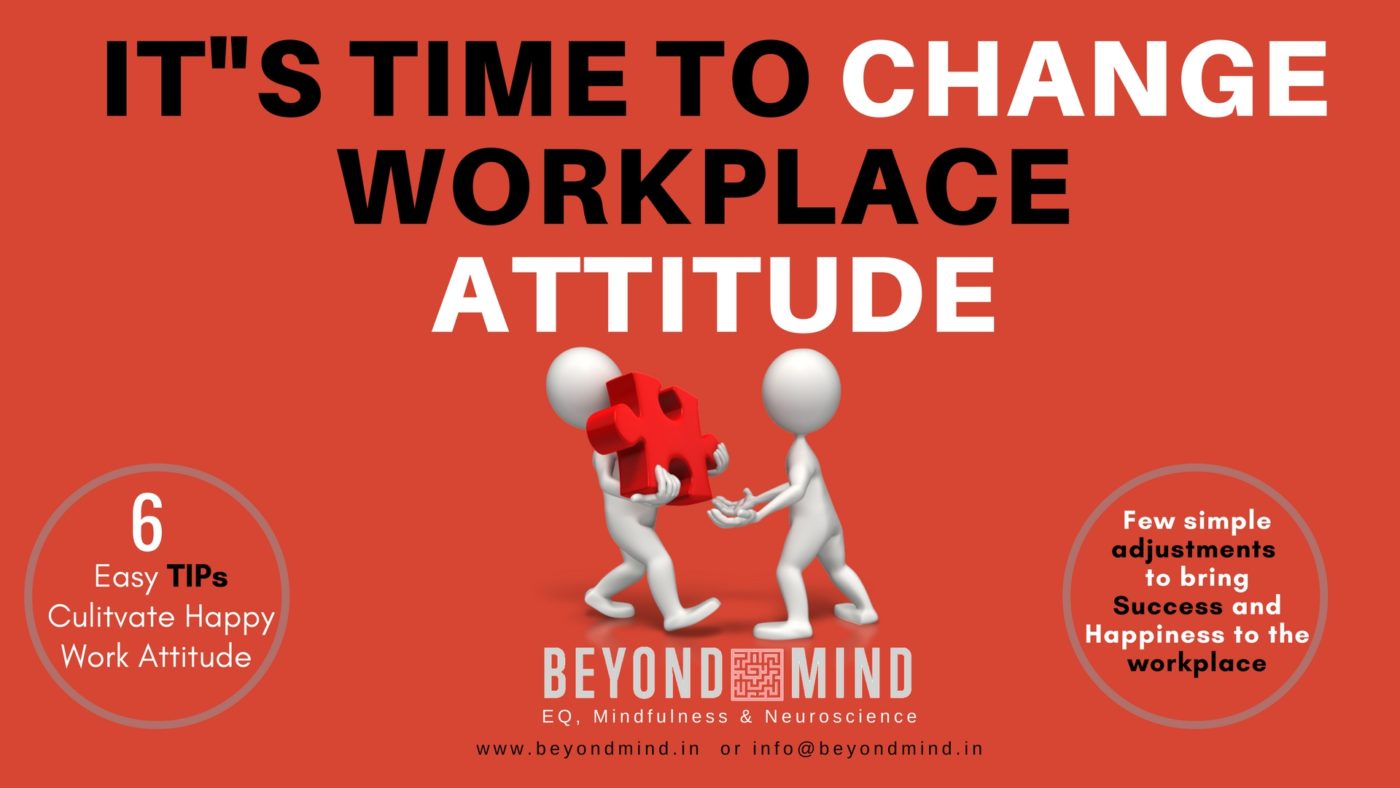 Think of a workplace just 20 years ago, how different it was. New workplace dynamics are completely different as the work-related demands have changed.
Problems are more cognitively complex for which we need more team-based and collaborative solutions. For Successful leaders, it is very critical to balance out both intellectual and social skills within the organization because workplace environment impacts our behavior resulting overtime in attitude. So, a question arises are skills and experience the most important characteristics? Or is it Attitude…
Sharing 6 Tips on attitude adjustment at the workplace which could ensure a harmonious professional and a productive environment. These basic steps can help you nurture a happy work environment:
1.  Listen to your employees: Listening exemplifies your caring attitude. Be open to take opinions and use them. Let your employees know that you value their suggestions and you're thankful for their input. People feel good when you value their opinions then not only they pay attention or work harder, but they feel much happier which foster collaborative culture and employee relationship.
2. Body Language and non-verbal messages you send:
Remember famous handshake of President Obama with his Marine when he came out of the chopper. It takes a very tiny moment to offer someone a pleasant glance or expression.
This may seem unimportant, but it can matter tremendously to employees, specifically to those who feel they are not acknowledged. Give and accept feedback, be generous of spirit. Be real and genuine .. this may sound new age, but it is that power which creates success.
4. One thing at a Time: Start with one thing, do it well and keep it up. For example, request for employee opinion or suggestion or innovate idea, they may be hesitant at the first time. Say you get few employee suggestions and most of them are awful, even if one idea has any virtue whatsoever, try to put that to use in some manner and acknowledge the employee for his contribution.
5. Appreciativeness: Most of the bosses' think if they appreciate employees they will demand a hike. Surveys have found that most of the time employees do not leave a job for money. They leave because of their immediate Boss.
Next time when you are on your surprise visit Catch your employees in the act of doing something right."
they won't trust you at the beginning if your company's not been of that culture. Don't worry about it. If you are unfailing, you will wear them down in the Positive sense.
6. Trust & Reward: Authenticity goes a long way in establishing trust as the workplace attitude. With the rises of level of trust in the organization, the performance problems decline
So once you've demonstrated a little trust, now it is the time to work on appreciation and reward program. In reward program give them the few options that are of equal value. Ask for employee's opinion as they can choose. Listen to your employees, don't just assume as you know what's best. These simple changes can create an environment conducive both to employee and organization. Many times no matter how positive you stay at work, you may still be experiencing job-related stress, don't just let this stress passed to the employees. It is also important to have a helpful attitude at work, whether that means supporting buyers and customers with their requests or helping your employees and co-workers accomplish overall company objectives.
People feel good when you value them, they not only pay attention or work harder, but they get much happier with what happens in their workplace. Positive workplace attitude also leads to lesser conflicts hence there is less stress and people stay healthier
People appreciate such positive workplace attitude, where they feel self-worth, this leads motivation and happiness which propels the performance both for employees and organization.
#Beyondmind facilitates employees and organizations in cultivating healthy workplace attitude and building positive organizational culture through Emotional, and Social Intelligence.
Manish Behl is the founder of "BeyondMind" and Braincloud India. As an ICF Coach, he creates Mindfulness and Emotional Intelligence based solutions for individuals and organizations on leadership, performance, resilience, and well-being. With over 25 years of leadership experience in the corporate world, he works on empowerment of professionals, individuals, and corporates through groundbreaking practices of Emotional intelligence, #Neuroscience, and #Mindfulness. An author who has extensively studied and developed transformational life practices which are life-changing and allows one to see their inner self, invoke positive thinking, augment neurological & transcendent energies and ability to connect with hyper-intelligence.
Beyond Mind is where he and his team expedite the birth of new mindsets and engaging behaviors at all levels of the organization. His purpose is to empower people to expand social-emotional competencies leading to better relationships thus ensuring successful performance and joyful life.
Contact Beyond Mind to learn more about how to use Emotional Intelligence to become Successful
Contact : email: info@beyondmind.in or visit www.beyondmind.in