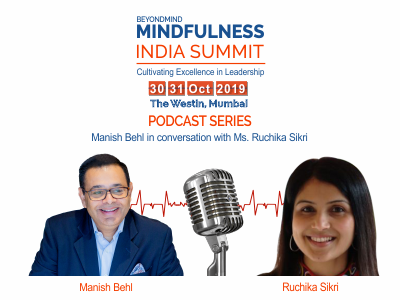 Mental, Emotional and Physical well-being is extremely critical for higher performance!
How to address fundamental aspects of emotional and mental well-being. Why organisations like Google put so much of effort and emphasis on cultivating Mindfulness and Emotional Intelligence.
Presenting to you Mindfulness India Summit – Podcast Series
Manish Behl – Founder mindfulness india summit  in conversation with Ms.Ruchika Sikri – Head Sustainability and Well-Being at Google – USA at Mindfulness India Summit
Asia's Biggest Mindfulness and Emotional Intelligence Summit to be held at Mumbai on 30 – 31st of October 2019 . A must attend for leaders, business heads, startups, Designers, financial organisation, wellness, HR, L&D and OB professional, Medical and Wellbeing professionals, Trainers, Coaches, Teachers and Educational Institutions. Know more about the summit :
To know more on Mindfulness and Emotional Intelligence register 
Mindfulness India Summit
Venue : The Westin – Mumbai – India
Date : 30 – 31, October, 2019
Register Now
---
---
Know more about the summit :
---
Mindfulness based Training for Workplace
---
Mindful Science Centre is mindfulness and emotional intelligence based  training and learning centre providing leadership and performance solutions for corporates and organizations. Mindful Science Centre applies practices based on self-awareness and social emotional intelligence that cultivate leadership qualities such as attention, resilience, focus, empathy, compassion, communication and clarity.
Well-designed Mindfulness training programs and one-on-one coaching sessions support individuals and organisations to develop a positive outlook, decision-making, agility, creativity, concentration, sustainability, mental and physical well-being through mindfulness and Emotional Intelligence practices. Contact Mindful Science Centre to learn more about how to become Successful leader Web: www.mindfulsciencecentre.com. Mail: hello@mindfulsciencecentre.com
To Get Information about Program Fill in Below details