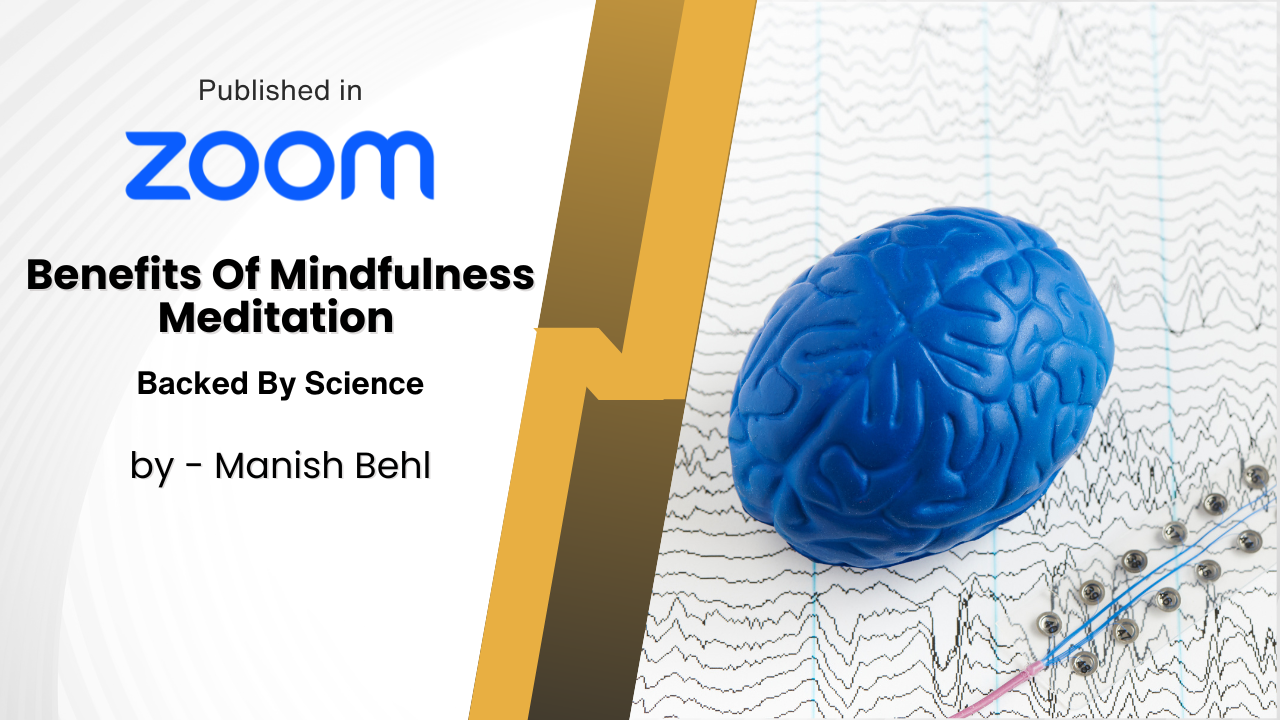 Benefits Of Mindfulness Meditation Backed By Science
Improves brain function Contrary to the belief that our brain structure and function are fixed, studies have shown that mindfulness can change both. It increases density of gray matter in brain regions associated with learning, memory, emotion regulation, decision making, and empathy. Additionally, it reduces the size of the amygdala, which is involved in fear and stress responses, showcasing the brain's adaptability through mindfulness practice.
Reduces overthinking By training the brain to focus on one thing at a time, mindfulness helps reduce mental clutter and distractions that hinder productivity and well-being. Letting go of distractions and negative thoughts brings about clarity, peace, and a stronger connection to the present moment.
Boosts happiness
 Practicing mindfulness elevates serotonin, dopamine, and endorphin levels in the brain, regulating mood, pleasure, and reward. It fosters an appreciation for the present moment and cultivates gratitude for what one already possesses, contributing to an overall sense of well-being.
These scientifically researched, fascinating facts and benefits clearly demonstrate the incredible impact mindfulness can have on our lives.
About the Writer: Manish Behl :
Manish Behl is India's foremost expert in Mindfulness and Emotional Intelligence, providing evidence-based solutions to individuals, leaders, and organizations to enhance performance and well-being.
An Internationally acclaimed Motivational Speaker and a Leadership and Growth Coach, he utilizes Mindfulness, Emotional Intelligence, and Neuroscience to facilitate positive change and drive performance.
Manish is the founder of Mindfulness India Summit, the largest event of its kind in Asia, and Mindful Science Centre, a prestigious institute for mindfulness research and training.
With 25 years of leadership experience as CEO of multinational companies, he brings a wealth of practical knowledge to his work. Manish is a TEDx speaker, neuroscience enthusiast, and visionary thinker committed to conscious living and personal growth. He is also Leadership Coach certified by ICF – PCC
Mindfulness based Training for Workplace
---
Mindful Science Centre is mindfulness and emotional intelligence based  training and learning centre providing leadership and performance solutions for corporates and organizations. Mindful Science Centre applies practices based on self-awareness and social emotional intelligence that cultivate leadership qualities such as attention, resilience, focus, empathy, compassion, communication and clarity.
Well-designed Mindfulness training programs and one-on-one coaching sessions support individuals and organisations to develop a positive outlook, decision-making, agility, creativity, concentration, sustainability, mental and physical well-being through mindfulness and Emotional Intelligence practices. Contact Mindful Science Centre to learn more about how to become Successful leader Web: www.mindfulsciencecentre.com. Mail: hello@mindfulsciencecentre.com