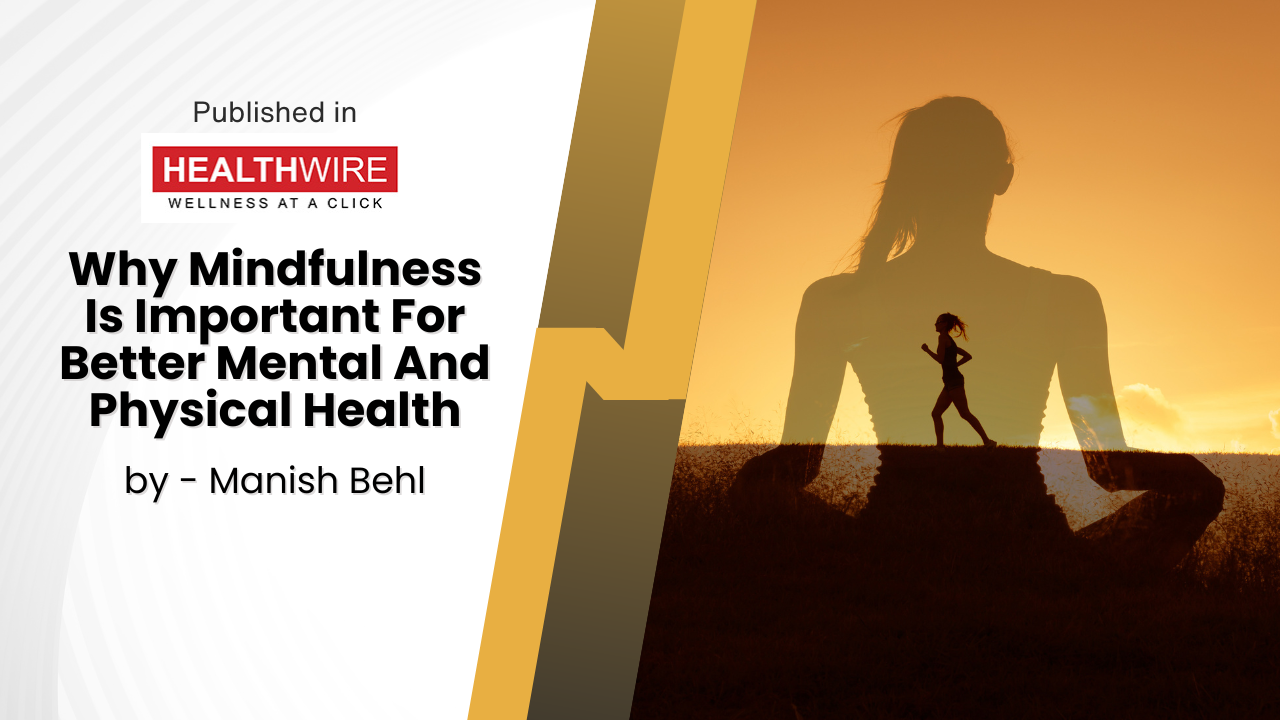 Why Mindfulness Is Important Tool For Building Better Mental And Physical Health
Pandemic and post pandemic have split wide open the issue of mental health and wellbeing to become a mainline conversation affecting humans worldwide.
A World Health Organization (WHO) report suggests that every year, the global economy loses around $1 trillion on account of depression and anxiety Organizations across the board are wondering what they can do to foster a culture that supports employees potentially struggling with mental health issues.
If you are unable to concentrate, feel alone and isolated, depressed or unhappy, forget things or names and have regular mood swings, then possibly you are struggling with mental health. If you are unable to detach, constantly daydream negative situations which makes you feel anxious and unhappy, then you need help and support for your mental health.
Around 80 percent of the Indian workforce have reported mental health issues over the past year. Deloitte's Mental Health Survey found that poor mental health amongst employees costs Indian employers around US$14 billion yearly.
Increasing pressure of modern life with factors such as job stress,  insecurity, financial struggles, technology, personal and professional relationships, and social isolation are all triggers for declining mental health and rising mental fatigue across the globe. Additionally, social media and technology is contributing to feelings of anxiety and depression, as people are often bombarded with unrealistic expectations, desires and comparisons to others.
What is the common coping mechanism? Laze long hours, overeating or eating unhealthy food, binge watching television or Netflix, hours of scrolling on social media, alcohol consumption, smoking, late night parties etc. All this results in higher stress and decline in our mental, emotional and physical health.
Mindfulness is a great way to reduce stress and overall wellness in the best and natural way. Celebrities like Oprah Winfrey, Emma Watson, Hugh Jackman, Katy Perry, Angelina Jolie or Jennifer Aniston advocate for mindfulness and practice regularly.
Some factors contributing to the rise of mindfulness. 
Mindfulness has become a buzzword over the years with celebrities and people from all walks of life embracing these practices. From corporate executives to busy parents, health workers and athletes, mindfulness is being adopted as a tool for managing stress, enhancing peak performance, and boosting overall wellbeing.
Emotional intelligence is not just about being nice or sensitive; it's about being smart with your feelings. People who have high EI can use their emotions to enhance their thinking, communication, and problem-solving skills.
One way that this plays a role in success is that it helps individuals build stronger relationships. People with high EI are better able to understand and empathize with the emotions of others, which can help them build trust, communicate more effectively, and collaborate more successfully.
In addition, EI can help individuals manage stress and overcome challenges. People with high EI are better able to regulate their own emotions, which can help them stay calm and focused in stressful situations and make more effective decisions.
Mindfulness is not tools and rituals, its unlearning and letting go ! – Manish Behl
Excerpts from article published in Healthwire Bureau
About the Writer: Manish Behl :
Manish Behl is India's foremost expert in Mindfulness and Emotional Intelligence, providing evidence-based solutions to individuals, leaders, and organizations to enhance performance and well-being.
An Internationally acclaimed Motivational Speaker and a Leadership and Growth Coach, he utilizes Mindfulness, Emotional Intelligence, and Neuroscience to facilitate positive change and drive performance.
Manish is the founder of Mindfulness India Summit, the largest event of its kind in Asia, and Mindful Science Centre, a prestigious institute for mindfulness research and training.
With 25 years of leadership experience as CEO of multinational companies, he brings a wealth of practical knowledge to his work. Manish is a TEDx speaker, neuroscience enthusiast, and visionary thinker committed to conscious living and personal growth. He is also Leadership Coach certified by ICF – PCC
Mindfulness based Training for Workplace
---
Mindful Science Centre is mindfulness and emotional intelligence based  training and learning centre providing leadership and performance solutions for corporates and organizations. Mindful Science Centre applies practices based on self-awareness and social emotional intelligence that cultivate leadership qualities such as attention, resilience, focus, empathy, compassion, communication and clarity.
Well-designed Mindfulness training programs and one-on-one coaching sessions support individuals and organisations to develop a positive outlook, decision-making, agility, creativity, concentration, sustainability, mental and physical well-being through mindfulness and Emotional Intelligence practices. Contact Mindful Science Centre to learn more about how to become Successful leader Web: www.mindfulsciencecentre.com. Mail: hello@mindfulsciencecentre.com